We Graphix Technologies Designed This Course.
Chapter 1: Introduction
Workflow
Overview of the Interface
Standard Terminology
Understanding the Folder
Structure
Viewing Commands
Use of Layers in Advance Steel
Chapter 2: Inserting and Editing
Structural Sections
Inserting Straight Structural Sections
Rolled I-sections
Round Bar Sections
Inserting Curved Structural Sections
Inserting Columns
Editing Inserted Structural Sections
Chapter 3: Advanced Structural
Elements – I
Work on Advanced Structural
Elements
Inserting Portal/Gable Frames
Editing Portal/Gable/Mono-Pitch
Frames
Inserting Purlins
Inserting Trusses
Chapter 4: Inserting the Plates at Beam the Connection Vault Palette
Inserting Plates at Beam Joints
Inserting Column-Beam Joint
Adding Joints to Favourites Category
Adding or Removing Joints from the
Joint Group
Upgrading Joint to Master
Chapter 5: Inserting the Beam End to End, Platform Beam, and Purlin Joints
Inserting the Beam End to End Joint
Apex haunch Joint
Inserting the Platform Beams Joints
Shear plate Joint
Inserting the Purlins and Cold Rolled Joints
Purlin connection Joint
Double purlin splice plate Joint
Single & Double Eaves Beam Bracket from Plate with End Plate Joint
Chapter 6: Advanced Structural
Elements – II
Advanced Structural Elements
Inserting Bracings
Inserting Joists
Inserting Straight Stairs
Inserting Hand-Railings.
Inserting Monowills.
Chapter 7: Inserting the Bracing, Tube, and Stair Joints
Inserting the General Bracing Joints
Gusset plate to column and base
plate Joint
Gusset plate at one diagonal Joint
Gusset plate for 2 diagonals Joint
Four diagonals – Middle gusset
plate Joint
Inserting Tube Joints
Inserting Miscellaneous Joints
Chapter 8: Inserting Plates and Gratings and Controlling Object Visibility
Use of Plates in Advance Steel
Creating Plates
Creating Conical Folded Plates
Setting Folded Plate Main Object
Editing Flat and Folded Plates
Controlling Object Visibility
Restoring the Standard Display
Type of the Objects
Chapter 9: Extended Modelling and Productivity Tools
Advanced Structural Elements
Selecting Tools in the Advance
Steel Tool Palette
Display objects connected in shop
Manually Connecting Parts
Splitting bolt group
Adding & Removing Objects
Chapter 10: Adding Custom Connections
Custom Connections
Inserting Plates
Inserting Bolts
Inserting Studs
Inserting Galvanizing Holes
Creating Custom Connections
Adding Custom Profiles to the Database
Skill Evaluation
Revision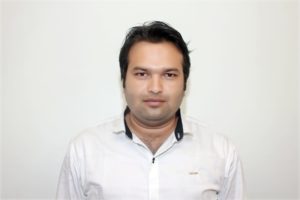 Chief Civil Engineer
Experience- 7 Yrs
Faculty For AutoCAD, Advance Steel